We offer a variety of comprehensive medical and dental/vision plans to retirees and their eligible dependents. The following are the types of health plans available.
Please note: See the health plan carrier pages for plans offered, coverage, deductibles, co-payments, out-of-pocket costs, and summary of description benefits, as well as contact information and additional resources.
Types of Medical Plans
Indemnity/PPO Plans
An indemnity/PPO (preferred provider organization) medical plan is fee-for-service health insurance, allowing you to use any provider you choose. You will pay less in coinsurance when you see a network provider (one who has agreed to limit their charges to a negotiated rate). The negotiated rate will vary depending on where you live.
Indemnity medical plans require:
Annual deductibles (the amount you pay before the plan pays benefits)
Coinsurance (the percentage of all medical services you pay after meeting your deductible)
Claim forms for reimbursement of services if you use a non-network provider
Utilization Review that determines medical necessity and length of stay of all hospital admissions.
Indemnity medical plans currently offered by LACERA are:
HMO Medical Plans
A Health Maintenance Organization (HMO) requires you to use certain providers specified by the plan and based on service area availability. There are two types of HMOs. In a group model HMO, services are offered at the facility the HMO owns and operates, and the physician is an HMO employee. In an independent physician association (IPA) model, physicians in private practice or physicians in medical groups contract with the HMO to provide services to its members. Services are provided at either a facility or the physician's office.
Features of HMOs:
Coverage for most expenses, including those for preventive care
No deductibles
No claim forms
Small copayments for office visits
No paperwork
No restrictions on coverage or pre-existing conditions
LACERA offers the following medical HMO plans:
Medicare Supplement Plans
A Medicare supplement plan is for members enrolled in Medicare Parts A and B. You pay for services at the time you receive care, then submit a claim and are reimbursed by the plan. The plan supplements Medicare coverage by:
Paying Medicare Part A deductibles and copayments
Paying the annual Medicare Part B deductible and 20 percent of Medicare-approved amounts for covered services and supplies
Providing prescription drug benefits instead of Medicare Part D.
There is one Medicare supplement plan currently offered by LACERA: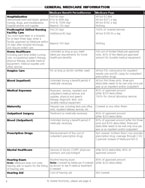 Medicare Advantage Prescription Drug Plans (MAPDs)
A Medicare Advantage Prescription Drug (MAPD) HMO Plan is an HMO that has a contract with Medicare (the federal government agency that manages the Medicare program) to provide healthcare services to those with Medicare Part A and Part B coverage, based on service area availability. Medicare, in turn, pays the HMO a monthly fee for each member. To participate in an MAPD, you must agree to receive all medical services and prescription drugs from your plan provider (except emergency care while traveling outside the service area) and assign all Medicare benefits to the MAPD.
MAPD plans offer:
Coverage for most expenses, including preventive care and prescription drugs
No deductibles
No claim forms
Small copayment for office visits
No paperwork
No restrictions on coverage for pre-existing conditions
MAPDs currently offered by LACERA are:
Enrollment in a LACERA MAPD plan will qualify you for the Medicare Part B Premium Reimbursement Program, provided you meet all the requirements. The Part B reimbursement is added to your monthly pension check on a tax-free basis. This program is subject to annual approval by the County of Los Angeles Board of Supervisors. See Medicare Part B Reimbursement for more details.
Available Dental/Vision Plans
Retired members and eligible dependents may enroll in either of the following plans:
Disease Management Programs
All of LACERA's medical plans have disease management programs as part of their benefits. These programs help LACERA members with certain chronic conditions (such as hypertension, asthma, congestive heart failure, or diabetes) take advantage of support, tools, and information to better manage their diseases. See individual plan pages for more details.
Plan Limitations and Exclusions
Each plan has its own exclusions, limitations, arbitration provisions, and contracts with Medicare with respect to the healthcare services they provide. Please refer to the plan materials from your insurance carrier for the applicable provisions.