Direct deposit is required for new retirees and strongly recommended for all existing retirees who are still receiving paper checks. Direct deposit has several important benefits:
Convenient: No trips to the bank! Your money is electronically deposited directly into your checking or savings account.
Quick: Your funds are available for access that same day.
Safe: No lost or stolen checks.
If you are preparing to retire soon, we will help you get enrolled in direct deposit prior to your retirement date to ensure your first retirement allowance payment is received according to schedule.
Signing Up Is Easy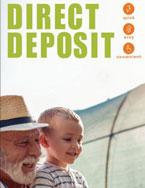 You have several ways to enroll in direct deposit or make changes to your account:
Log in to My LACERA, select Direct Deposit from the menu, and follow the instructions.
Call LACERA at 800-786-6464. Be ready to provide your account number and bank routing number. Direct deposit cannot be created on preloaded debit cards. Only U.S. bank accounts are eligible.
Mail in your form. Download and print the Direct Deposit form, and send your completed form to LACERA. You can also order a form to be mailed to you from our Forms and Publications page. It is available under Manage Your Retirement Payments.
Drop off your form. You can securely submit your form at our building if that is a convenient option for you. The drop-off mailbox is located outside to the right of our Member Service Center.
Direct deposit will begin that same month for forms received by the 13th of the month (or the last business day before the 13th if it falls on a weekend or holiday). If you enroll after the 13th, your retirement allowance will be by check that month, and your Direct Deposit will start on the last business day of the following month.
Automatic Deposit Receipts
Members who are enrolled in direct deposit receive a monthly automatic deposit receipt (ADR) in the mail, which indicates the amount of deposit and any withholdings, deductions, and allowances. You can also view all of your monthly ADRs on your My LACERA account. Just sign in and select Direct Deposit from the menu.